Anti-condensation painting
Anti-condensation painting
Anti-condensation painting
Question
Options in Anti-condensation painting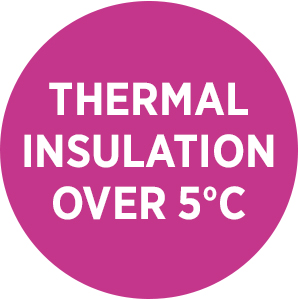 Plastic matte water painting manufactured from acrylic copolymers and glasshollowed isolating microspheres, conferring anticondensation properties, avoiding moss growth, and noise and termal isolation.

Formats: 15 litres 4 litres
Certificates: Certificate Applus Thermal Performance 17/14877-1420. Thermal insulation over 5ºC
Matte slightly textured
Performance by layer: 8 m²/liter/coat depending on the surface
Drying: 1 hour
Repaint: 24 hours
Dilutions: Water
%: 5 - 10 1st hand, 5% 2nd hand
Applications: brush, roller
Cleaning: Water
Keep out of reach of children.
Do not empty into drains.
Use only in well-ventilated areas.
Safety Data Sheet available for professional user on request.
Directive 2004/42 / CE EU limit value for this product (cat A / a.): 30 g / l (2010) Max. in VOC: 30 g / l